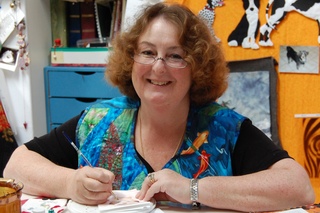 About the artist
Sharyn Mellors has been creating things from her imagination ever since she was a small child when her grandmother made her learn to sew because Sharyn wouldn't leave the treadle alone on the sewing machine. She wasn't always a wiz at sewing as demonstrated by the "D" she got in Junior high sewing class when she sneezed and the pleated skirt that she had just made fell apart.
For 21 years Sharyn and her husband Andy traveled around the country where ever the Air force sent them. They raised two children along the way while she earned a degree in Accounting and becoming a CPA. Each state had a different craft to discover. She learned ceramics, china painting, and tole and decorative painting. She taught as well as designed, authored and published painting patterns with world-wide distribution. She was a featured artist in "Creative Painting USA "and "ToleWorld" magazines.
In Washington State she saw her first hand sculpted Santa. It made her smile and she somehow figured that she could do it too. A video tape by Doll Artist Jack Johnston gave her the right direction and off she went. She showed at juried art shows all over Western Washington including Christmas in Seattle in the Kingdome. Her funny Santas won awards including best in category and several first place ribbons.
All of these art forms were wonderful fun but it wasn't till she and her husband ran away to Whidbey Island and found quilting that she found a home. With quilting came Guilds and the like spirited artist who could give friendship, support encouragement and competition. All of these make for a better artist. Quilting also gave her the ability to pay forward the blessings of being the daughter and niece of cancer survivors by making chemo quilts. With the coming of grandchildren quilting gave her a way to wrap her love around them for many years and create lasting memories.
Sharyn considers herself a folk artist. All of her quilts are hand appliquéd one of a kind originals. Her quilts have won several awards. Her studio was a gift from Andy for their 30th wedding anniversary. It was featured in the January/February 2008 Quilters Newsletter. Her award winning quilt "Star Dancer for the Cure" is hanging in the permanent collection of the MAC unit of Whidbey General Hospital. Most of her quilts are given away.
Smile

Life is too short.

My work is made to make people young and old stop, take a breath, and SMILE.
No matter if I am making a Chemo quilt for a cancer patient, an elaborate sculpted Santa, a challenge quilt or a toy for my grandchildren. If you look at my work and smile I have done my job.