Entering Eggbert
posted by Shari on 4/29/2009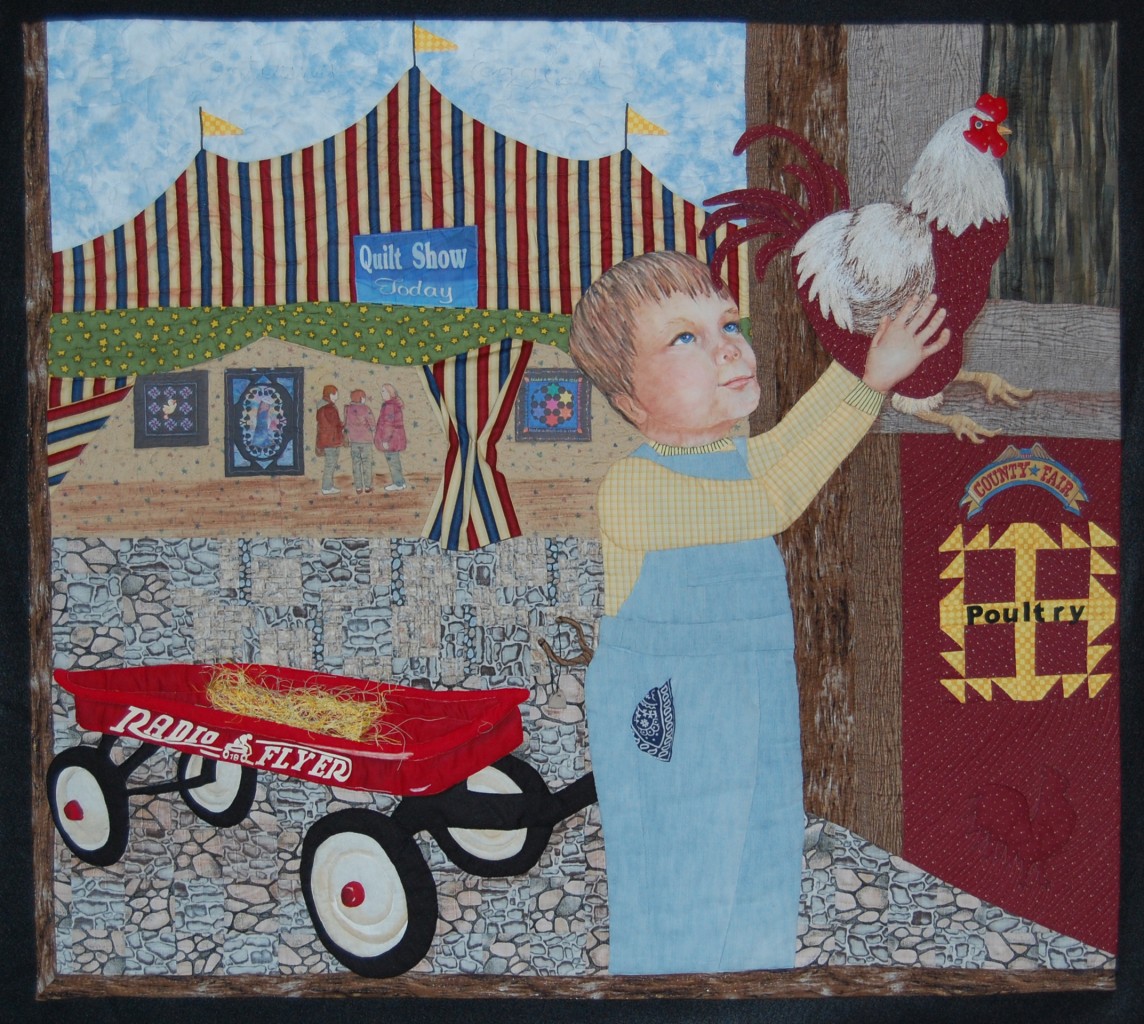 Entering Eggbert
41″wide by 36 ½ inches tall
Original designed hand painted, hand appliquéd and machine thread painted and quilted
By Sharyn Mellors
August 2008
Update: Please see this Press Release for more information regarding Entering Eggbert.
The theme for the challenge was County fair. I wanted to represent the county fair of days gone by. The day after I got the challenge a photo of my grandson Emmet arrived and it touched me. Emmet was listening to music but I could see the look on his face as that of a little boy who was entering his best friend Eggbert in the fair. After all he was the very best rooster in the whole universe you know.
Eggbert is a combination of several different chicken breeds and my imagination. The wagon and slingshot just had to be there too as little boy's constant companions. But the background gave me fits. I kept changing it from one farm scene to another.
I have always said that I have quilting angels who take over and guide my mind and hands. Well this time they really did. I saw a sign"quilt show today" and knew that it had to be in the quilt. Not wanting to make a bunch of teeny tiny quilts I was given the idea to use photo transfers of my own quilts. It was not till I was ready to do the final quilting that I realized what my quilting angels were trying to tell me. The boy entering his best friend is exactly like us quilters entering our hearts made of cloth in a show. Each to be admired and judged by others
Awards & Recognition:
Best of Show, Best of Division, Best of Lot and First place Ribbons – Skagit County Fair (2009)
Award of Merit -Western Washington State Fair Puyallup
Best in Show and the People's Choice – Skagit Quilt Challenge (2008)
Hung by invitation in the La Conner Quilt Museum's Encore show (2008)