The Announcement
posted by Shari on 4/10/2011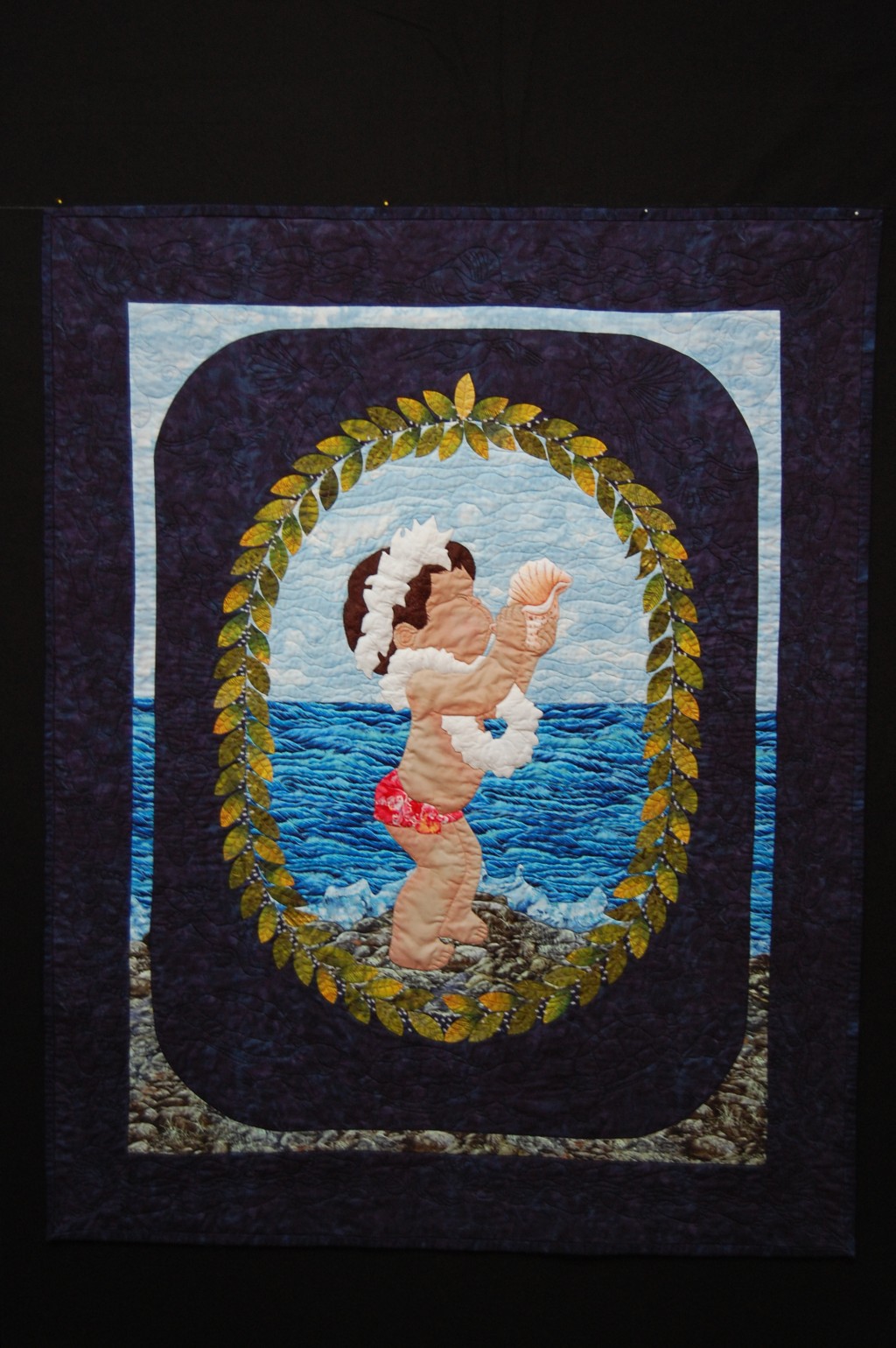 The Announcement
By Sharyn Mellors
This is a baby quilt for my Grandson Evan. His dad was born and raised in Hawaii and this was the perfect way to announce the birth of his son. The quilt is all hand appliqué, hand painted and machine quilted. The Maile leaf lei is inspired by Evan's older sister Maile. I quilted in turtles, birds; geckos and baby foot prints all over the quilt.
I work mostly by hand because I enjoy the peacefulness and the control it gives me. I come to quilting from a background of decorative painting and sculpting Santas. Most of my quilts are originals featuring children based on my grandchildren. I never took a traditional quilting class. I credit my Muses which I call my Quilting Angels (quilting ancestors) for guiding me through my work. I have learned to put my trust in them and never question or hold back.
From the moment my friend showed me the Hawaiian Kids coloring book by Meri Ishakowa I knew that I had to do this quilt for my grandson. I normally do originals but I was able to contact the publisher Island publishing and get permission to use this image. It took me a year and a half to finish this quilt because I wouldn't settle for less than exactly the image in my mind no matter how long it took. Because of that, I finished it within two weeks of the deadline for the AQS show in Paducah Kentucky. I didn't have time to second guess or shy away. I just sent in the paper work. This quilt was juried into the 2011 show in Paducah and I am going to be there. My husband Andy insisted I make my reservations the same week I sent in the application. I put up an objection but, followed his advice. I am here to tell the world that MY HUSBAND was RIGHT.