The Spirit of The West Has Her Own Special Style
posted by Shari on 4/10/2011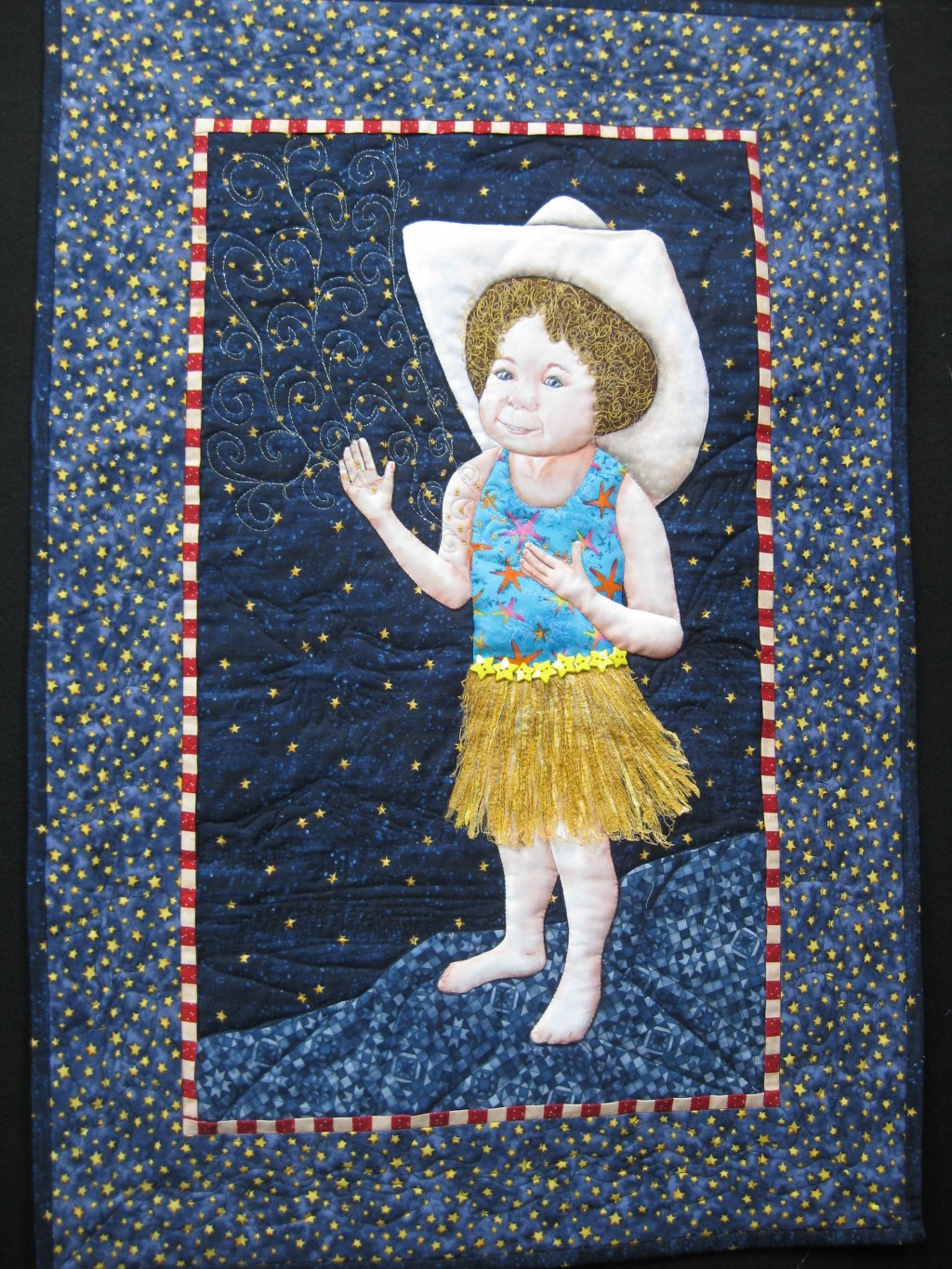 THE SPIRIT OF THE WEST HAS HER OWN SPECIAL STYLE
Original quilt 24" x 36"
By Sharyn Mellors
2011
This is a quilt for the Association of Pacific West Quilters (APWQ) 2011/2012 invitational traveling show. The theme is "The Spirit of the West." Hawaii and many western states and parts of Canada have been added to the member states of APWQ this year. The West is a young part of our country and is a mixture of many cultures, much like our grandchildren.
I was inspired by a photo of my Granddaughter Maile (My Lee) wearing her Grandpa's cowboy hat. Maile's Mama was raised in Texas and her daddy was raised in Hawaii. Maile has been known to wear a hula skirt with whatever she happens to have on. She has her own special style.
This quilt is silk/cotton hand painted with inks and hand appliquéd. I machine quilted it free motion with a basic home machine. If you look closely you will see a mountain, lake, evergreens and palm trees, birds, as well as children's foot prints and stars in the quilting.
This quilt will travel around the country for the next year and will be auctioned off at APWQ's 2012 quilt show as a fund raiser.
The Announcement
posted by Shari on 4/10/2011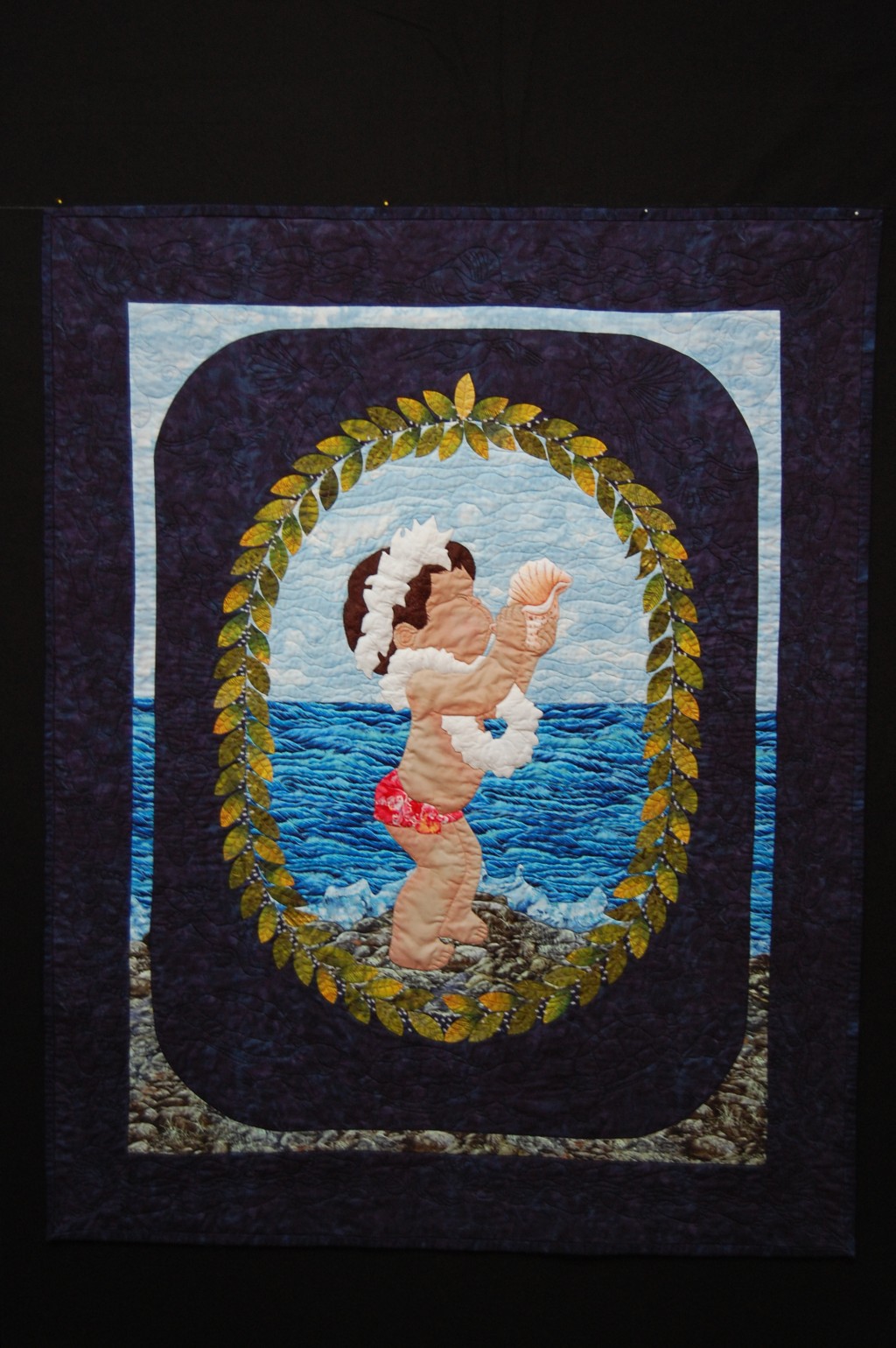 The Announcement
By Sharyn Mellors
This is a baby quilt for my Grandson Evan. His dad was born and raised in Hawaii and this was the perfect way to announce the birth of his son. The quilt is all hand appliqué, hand painted and machine quilted. The Maile leaf lei is inspired by Evan's older sister Maile. I quilted in turtles, birds; geckos and baby foot prints all over the quilt.
I work mostly by hand because I enjoy the peacefulness and the control it gives me. I come to quilting from a background of decorative painting and sculpting Santas. Most of my quilts are originals featuring children based on my grandchildren. I never took a traditional quilting class. I credit my Muses which I call my Quilting Angels (quilting ancestors) for guiding me through my work. I have learned to put my trust in them and never question or hold back.
From the moment my friend showed me the Hawaiian Kids coloring book by Meri Ishakowa I knew that I had to do this quilt for my grandson. I normally do originals but I was able to contact the publisher Island publishing and get permission to use this image. It took me a year and a half to finish this quilt because I wouldn't settle for less than exactly the image in my mind no matter how long it took. Because of that, I finished it within two weeks of the deadline for the AQS show in Paducah Kentucky. I didn't have time to second guess or shy away. I just sent in the paper work. This quilt was juried into the 2011 show in Paducah and I am going to be there. My husband Andy insisted I make my reservations the same week I sent in the application. I put up an objection but, followed his advice. I am here to tell the world that MY HUSBAND was RIGHT.
Press Release
posted by Shari on 1/19/2010
Bellingham, WA, January 17, 2010 — Northwest Quilting Connection presents Sharyn Mellors and her "Whimsical Journey of Imperfection and Quilting Angels in a Perfectly Pointed World."
Sharyn Mellors, an award-winning folk artist and quilter, will present a trunk show of her work and discuss her unique creative process at the NQC's March 13 meeting at the Lynden Community Center. Inspired by her quilting angels, Sharyn lets her quilts develop as she works. Her distinctive style of quilting—with painted faces and other original techniques—draws on her experience as a doll designer and tole painter.
She likes to "make quilts that make others smile." Her quilts have won several awards, including her "Star Dancer for the Cure," which is in the permanent collection of Whidbey General Hospital. Her Whidbey Island studio was featured in Quilter's Newsletter Magazine. She is currently working on her first quilting book.
Sharyn Mellors will speak on Saturday, March 13, at the Lynden Community Center, 401 Grover St, Lynden, WA (Google Map) . The program starts at 10:00 am, as part of the Northwest Quilting Connection meeting. The program is free to members; a donation is requested from non-members.
The Northwest Quilting Connection is a group of Northwest quilters who meet 6 times per year to learn more about the art of quilting, to connect with other quilters, and to share knowledge about quilting arts, techniques, and quilt artists.
Previous
Next