Press Release
posted by Shari on 9/14/2009
The Pacific International Quilt Festival has selected the quilt, "ENTERING EGGBERT" by Sharyn Mellors of Ledgewood Beach, to be hung and judged in the Pacific international Quilt competition. The Festival will take place October 15th through 18th in the Santa Clara Convention Center, Santa Clara, California.
"ENTERING EGGBERT" is a hand painted and hand appliquéd pictorial quilt depicting a small boy entering his best friend, Eggbert the rooster, into the county fair of days gone by. The boy is complete with his red wagon full of hay and slingshot sticking out of his back pocket. The 41" x 36 ½" wall hanging has won two Best of Show awards, a People's choice, Award of Merit and several other ribbons locally. This quilt may be viewed at http://www.whidbeystudios.com
Sharyn is a member of Quilters on the Rock and Fidalgo Island Quilters quilt guilds. She considers herself a FABRIC FOLK ARTIST
Entering Eggbert
posted by Shari on 4/29/2009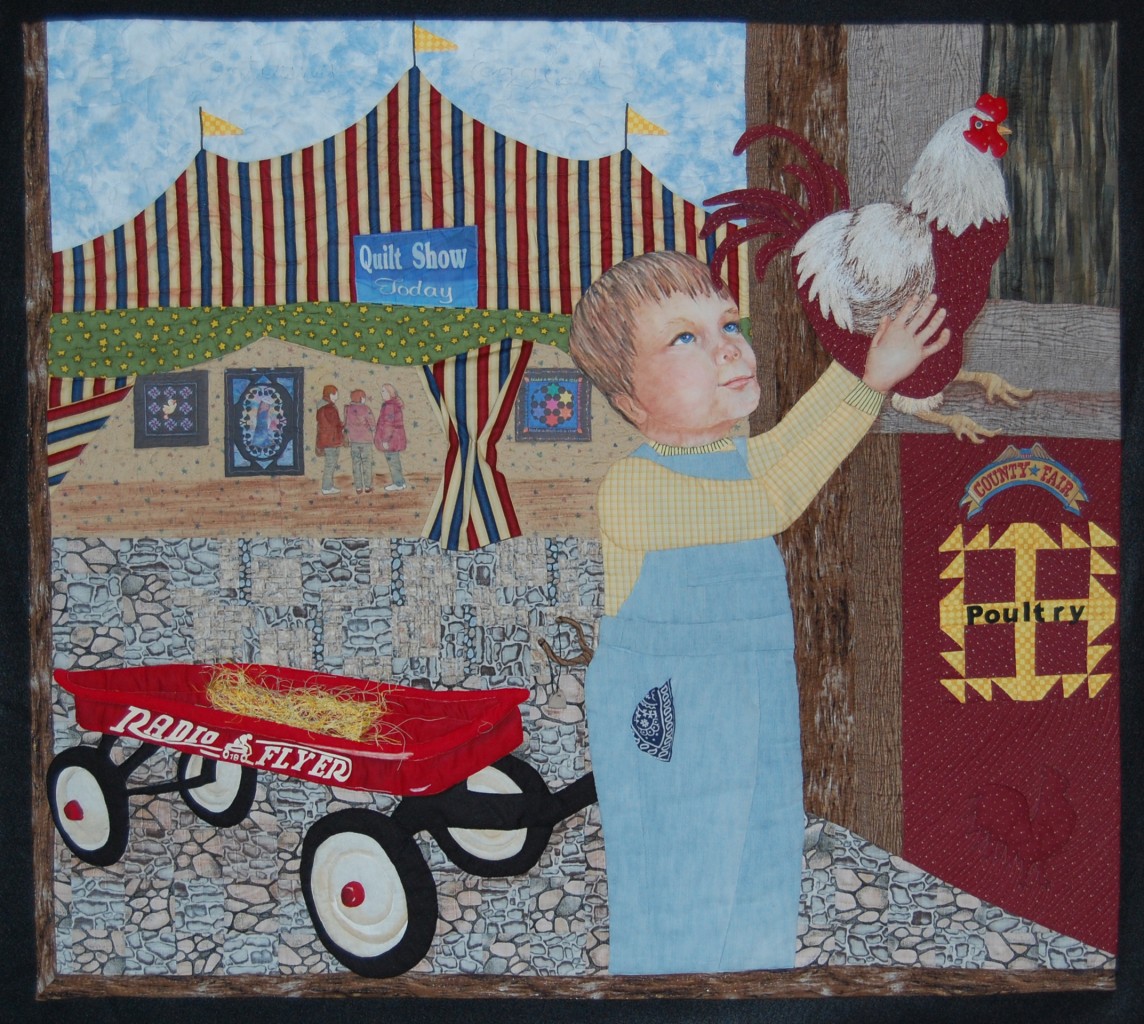 Entering Eggbert
41″wide by 36 ½ inches tall
Original designed hand painted, hand appliquéd and machine thread painted and quilted
By Sharyn Mellors
August 2008
Update: Please see this Press Release for more information regarding Entering Eggbert.
The theme for the challenge was County fair. I wanted to represent the county fair of days gone by. The day after I got the challenge a photo of my grandson Emmet arrived and it touched me. Emmet was listening to music but I could see the look on his face as that of a little boy who was entering his best friend Eggbert in the fair. After all he was the very best rooster in the whole universe you know.
Eggbert is a combination of several different chicken breeds and my imagination. The wagon and slingshot just had to be there too as little boy's constant companions. But the background gave me fits. I kept changing it from one farm scene to another.
I have always said that I have quilting angels who take over and guide my mind and hands. Well this time they really did. I saw a sign"quilt show today" and knew that it had to be in the quilt. Not wanting to make a bunch of teeny tiny quilts I was given the idea to use photo transfers of my own quilts. It was not till I was ready to do the final quilting that I realized what my quilting angels were trying to tell me. The boy entering his best friend is exactly like us quilters entering our hearts made of cloth in a show. Each to be admired and judged by others
Awards & Recognition:
Best of Show, Best of Division, Best of Lot and First place Ribbons – Skagit County Fair (2009)
Award of Merit -Western Washington State Fair Puyallup
Best in Show and the People's Choice – Skagit Quilt Challenge (2008)
Hung by invitation in the La Conner Quilt Museum's Encore show (2008)
64 Geese and a Duck
posted by Shari on 4/29/2009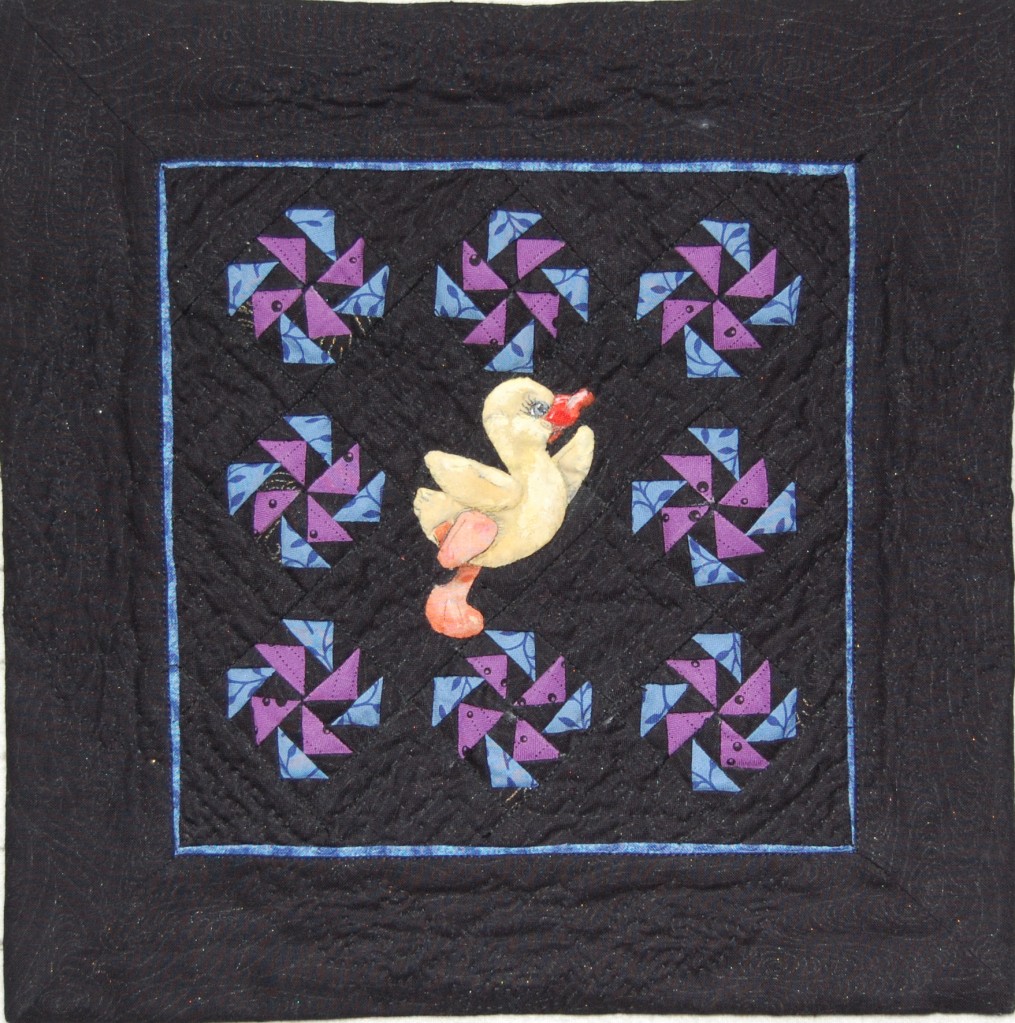 "64 Geese and a Duck"
April 2004
10 ½ inches square

This tiny duck may not be able to fly in perfect formation and her technique may not be perfect. But, when she tries really hard she can still fly.

I made this little quilt was my first entry into a quilt show. It is 10 ½ inches square and has 221 pieces in it. I am the duck among all the perfect pointed quilters. My theory was that if you make the quilt tiny enough the points couldn't be that far off and nobody would notice the imperfections.
Previous
Next